Bishop Peak Natural Reserve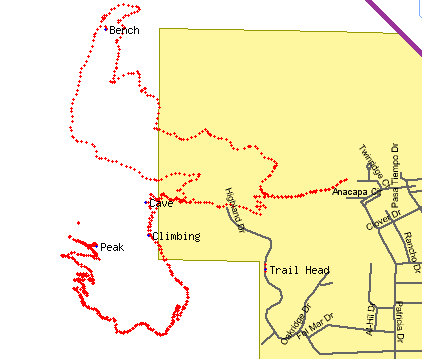 Legend: Red: main trails
Maps: street(link) small(image)
Files: Tiger

Length: 2 miles to the top, Felsman Loop 1.5
City: San Luis Obispo, CA
Location: North West of San Luis Obispo downtown
Level: Moderate
Activities: Hiking, Rock Climbing,

Description

Also known as the Ferrini Ranch Open Space, this is one of the most popular destinations in town, and for good reason. Spectacular views, a great trail, and big rocks at the top make for a good hiking destination. Trails go through grasses, wooded areas, and low ground cover.

The Felsman Loop is a less traveled trail that is a nice hike. A picnic table off the trail half way around makes for a great stopping point to eat a packed lunch.

Directions

This open space has two trail heads. First is at the west end of Highland Drive. The second is north of Highland on Patricia Drive. Note that the commonly used access on Foothill Road crosses private property and is not a city maintained path.